Davy Dee – Irampac EP [Jeton] JET045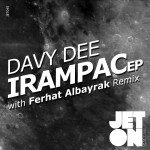 The forty fifth release of Jeton Records, originally based in Istanbul and with a branch in Berlin, owned and managed by Turkish Techno Player Ferhat Albayrak, welcomes once again Belgian Techno Talent Davy Dee with Irampac EP.
The Original Mix of Irampac is a nice example of synth hook work, which starts on the 1/4 part the track and continues all over. A note which is not really quantized, give an interesting texture to the track and let it flow seamlessly.
Ferhat Albayrak Remix of Irampac is almost completely different than original, by having only a little synth work. An acidy synth surrounds the track and pumps with saw effect. While whitenoises and cymbals are getting together, you are still listening the acid saw and takes you to the higher levels.
The Brown Note is again a track of exception with its traffics, fx usage and general flow. Small vocals feed the track on the drops, atmospheres and snare works are no exceptions. Could be a superb last track of the night.
Davy Dee – Irampac EP will be your tool with its unique character tracks and 3 different style of dance works. Enjoy !
FEEDBACKS
| | | |
| --- | --- | --- |
| Richie Hawtin | – | downloaded for r hawtin |
| Marco Bailey | – | brown note !!!  |
| Eddie Halliwell | – | passing on to eddie to check out |
| Sasha Carassi | – | Will play the Remix.Thanks |
| Elio Riso | – | NICE |
| Bodyscrub | – | Great release…Ferhat Albayrak remix for me! |
| Peja | – | Great tracks from Davy Dee,Irampac for me! |
| Andy Slate | – | Now we aree back on the techno track! Wicked EP!!! Great Remix from Ferhat! Love all 3 tracks! Full support! |
| Roman Finansi | – | Original Irampac is PHAT!!! Thnx! |
| Phil Soren | – | Nice EP – Thx |
| Luke Creed | – | Thanks for this.. watch wired up for support |
| Davy Dee | – | No Comment… |
| Gabriel Ben | – | cool tracks. will play |
| A-Brothers | – | big phat remix by ferhat. full support!! |
| Dean Facer | – | Beautiful and deep. I'm really loving The Brown Note |
| Ricardo Garduno | – | Nice release! thanks! |