Ferhat Albayrak – Days of Modoc EP [Jeton] JET044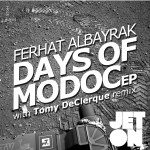 The forty forth release of Jeton Records, originally based in Istanbul and with a branch in Berlin, owned and managed by Turkish Techno Player Ferhat Albayrak, presents Days of Modoc EP with Tomy DeClerque Remix.
Jeton Records welcomes another important artist for a remix, Tomy DeClerque, who is one the rising stars in the scene and contributes to the release with a killer remix !
Days of Modoc, features not one but various basslines and hooks as well. A squashy sound gets the lead, accompanied by a reverse subbass, high-kick and on top of that a synth completes the zip. This is a quite powerful and at the same time catchy interesting sounds combination track.
Tomy DeClerque Remix has the vibe with the original but, more organic and pumping by getting influenced by Tomy's trademark sound, which is real percussion oriented. A subbassy main groove and hooks from the original, track is entering to an another dimension and flow. It has more direct in terms of traffic and more generous on FXs.
Ferhat Albayrak – Days of Modoc EP is serious about beats and production quality, we hope it will be your favorite tool for main rooms as well.
Enjoy !

FEEDBACKS
| | | |
| --- | --- | --- |
| Richie Hawtin | – | downloaded for r hawtin |
| Eddie Halliwell | – | passing on to eddie to check out |
| Dubfire | – | Downloaded for Dubfire by Ronald |
| Marco Bailey | – | Many Thanks !! |
| Sasha Carassi | – | Tomy DeClerque Remix rocks! |
| Axel Karakasis | – | another great release!!! thanks, i will play and support |
| Bodyscrub | – | Great release…Tomy DeClerque remix for me! |
| Loco & Jam | – | Nice release.. Liking both Original & Remix! Peak Time! |
| Davy Dee | – | Both mixes are fucking good !!! |
| Steve Mulder | – | Lovin both mixes!! |
| Roel Salemink | – | Really big EP!! |
| Drumcomplex | – | wow big banger…support |
| Dean Facer | – | Huge release…. I am lovin' this !! |
| Gabriel Ben | – | Tomy remix. Nice one. |
| Roman Finansi | – | Tomy DeClerque Remix is nice! Thnx! |
| Luke Creed | – | thanks will try out, watch wired up radio for support" |
| Stanny Franssen | – | The original for me. |
| Phil Soren | – | Nice EP – Thanks for promo |
| Angel Costa | – | Will test. Thanks! |
| A-Brothers | – | cool tracks. will test! thanks. |