Ferhat Albayrak – Requiem II EP [Jeton] JET046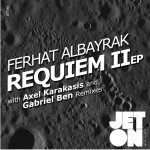 The forty sixth release of Jeton Records, originally based in Istanbul and with a branch in Berlin, owned and managed by Turkish Techno Player Ferhat Albayrak, presents Requiem II EP, including remixes from Axel Karakasis & Gabriel Ben.
After the success of the first Requiem EP and his unique vocal sample, Ferhat decided to produce another track with the same kind of vocal and let it remixed to the finest artists like Axel & Gab.
The Original Mix just like the first Requiem, includes a real Requiem with the traditional Turkish Music Tune. The challenge was to transform it to a dance track, with the elements of low-bass High-kick combination and very wet percussion instruments. The result is nothing but a groovy tech track.
Our friend from other side of the Aegean see, one the most experienced & respected names in Techno Scene, Axel Karakasis uses his trade-mark sound to make the original more pumping by utilizing tight snares/rides, organic high-pass filter automations and of course a dark atmosphere lead.
Gabriel Ben pushs the original to the limit, a real button-heavy lows and full-spectrum FX usage, on-the-loop hooks and of course wet rides let the track be a 4am monster.
It is not so usual that an EP would have a second series, but Ferhat Albayrak Requiem II EP deserve it from the beginning and hopefully would be on your hard-drive/USB stick whenever you need an unique and powerful sounds. Enjoy !
http://www.beatport.com/release/requiem-ii-ep/1102635
FEEDBACKS
Erphun – I like the original mix & the middle eastern tone. Reminds me of the old prog house days – will be a good tool for me to use! Tnx!

Andy Slate – Original Mix is huge!
Davy Dee – Axel Remix is fantastic !!!
A-Brothers – great release. support!
Phil Soren – Thx for this promo
Gennaro Le Fosse – support! nice rmx too!
Dean Facer – Another great release on Jeton….. I'm liking the Gabriel Ben mix !
Roman Finansi – Requiem II original is nice!!! Thnx, Ferhat!