Various Artists – New Breed Vol.II [Jeton] JET117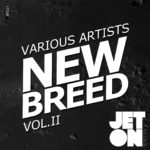 The hundred and seventeenth release of Jeton Records, originally based in Istanbul, owned and managed by Turkish Techno Player Ferhat Albayrak, proudly presents Various Artists New Breed Volume II, second edition of new compilation series reserved for upcoming talents.
Since day 1, we are focused to support the best new breed of the scene and try to let them be noticed by the rest of the game. This compilation is focused to find the right music no matter what the producer's name is.
On the first edition of New Breed, Richie Hawtin discovered Kuvoka – Kargi, played in almost every festival and signed the track for his upcoming compilation. Can't get better!
We compiled this selection from among all the demos have been sent to us. All those tracks have been road-tested by label-head Ferhat Albayrak for months and the reaction of the dance-floor is %100 approved.
Beside Atesh K. and Riza Gobelez, all the producers are on the early stages of their career and we hope this compilation will be a platform for them to be discovered.
We promise we will support the upcoming talent and the selection of the new breed producers will be continued. Enjoy!
Feedbacks
Anluk Sequence – Great VA, aural for me !
Carmello Ponente – Ãvisos for me, banger !
COMMA Group – thanks for sharing!
DJ T.A.G. – Very good Release
Eme Kulhnek – niceee ! thanks !
Eric Powell – solid EP
Ilario Alicante – Downloading for Ilario Alicante, thanks for the music!
Kaizer The Dj – Great tracks…thnx !
Lasawers – THANKS
Marco Carola (Minus / Plus 8) – downloading for Marco Carola, thanks
Paco Osuna – Will try thanks
Pascal FEOS – solid, thx
Richie Hawtin – downloaded for r hawtin
Slam (Soma / Paragraph) – Thanx
Spartaque – Cool VA, will play!
Stiv Hey – HEY is downloading, thanks for the music 🙂
Subversive – Mertens Infliction has groove! THanks.
TekNoize – Very Impressive All Tracks Are Bombs. Full Support!
Ugur Project – Full Support!
Zoe Xenia – Nice work on T40! 🙂