Jeton Records Radio Show 096 Karotte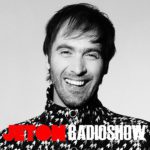 The 96th episode of Jeton Records Radioshow welcomes Karotte from Germany. One the veterans of the Techno Scene, Karotte started his DJing career in early 90s and made his establisment firstly in Germany then all over the Europe. During the years, he also secures so many great releases on big labels like Elevate, Tronic, Break New Soil and many others. He has a great appearence in almost every big festivals in Europe, starting with Time Warp, Nature One, Loveland and even Tomorrowland. We are featuring his live recorded set at Time Warp 2019, which includes 2 tracks of Ferhat Albayrak, co-produced with Ugur Project and Riza Gobelez. We very proud to host him in our Jeton Records Radioshow.
Second part features Ferhat Albayrak`s live mix taken at Zorlu PSM Studio from last month, opening set for I Hate Models. Enjoy!
Stream on Spotify     Download on iTunes      Direct Download      Stations List