Atesh K. – Black Mamba EP [Jeton] JET097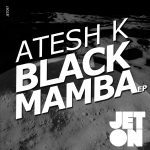 The ninety seventh release of Jeton Records, originally based in Istanbul and with a branch in Berlin, owned and managed by Turkish Techno Player Ferhat Albayrak, welcomes again Cyprius Atesh K with Black Mamba EP.
Jeton Regular our artist Atesh K. is coming back with a great 3 trakker. His experiments on modular synths and hardware drum machines can be easily recognized in his new EP sounds.
The Name Track of the EP, Black Mamba composes a nice synth hook which forms the fundemental of the track basically, flavored by nice drums, FXs, noises and atmos. A real catcher.
Second track Silent Movement takes a basic stab and plays it with filters, reverbs, times and other ingredients. Very nice rumbling bassline makes sure that the track is for dancefloor by maintaning the groove.
Last Track Adventures in The Dark combines minimal synth work with modular sounds, atmospheric additives, small pads and powerful drums. Experimental but groovy.
Atesh K – Black Mamba EP shows how an artist can evolve his sound with new materials/sounds by maintaining his signature beats. Enjoy!
FEEDBACKS
Alexander Filimonov [Kiss FM Ukraine] – Thanks, will support!
Ambivalent – Silent Movement is nice. Big shout to Jeton! Nice stuff!!
Axel Karakasis – downloading, thanks!!
Censer – support on my next ivent 🙂
COMMA Group – thanks forsharing!
Dimitri Kechagias – good techno vibes with pulsating basslines and dark grooves, truly powerful many thanks
Giorgio Rusconi – CooL EP !
Levent Lodos – Good Job !
Luigi Madonna – Thanks for the music
Paco Osuna – Will try thanks
Richie Hawtin – downloaded for r hawtin
Vinicius Honorio – Pretty dope release, will def give it a spin!