Ozan Kanik – Alarma EP [Jeton] JET098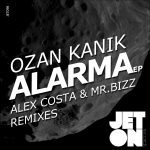 The ninety eighth release of Jeton Records, originally based in Istanbul and with a branch in Berlin, owned and managed by Turkish Techno Player Ferhat Albayrak, welcomes Ozan Kanik with his Debut EP 'Alarma' inc. Alex Costa & Mr.Bizz Remixes.
Ozan Kanik from Amsterdam holds a releases wallet on respected labels like Bush, Monique Music and of course on his own Sounds R Us Recording. The package also has wonderful remixes from Terminal M veteran Alex Costaand Cocoon, Sci+Tec, Octopus, Terminal M, Toolroom & Suara stamped Italian Duo Mr.Bizz.
While The Name Track of the EP, Alarma includes a alarm-kind-a FX work all around the track and agressive low-end, Alex Costa transforms the track to a more groovy weapon and Mr.Bizz put their signature vibe including heavy use of percussions.
Channel is more 4/4 side of the EP, featuring dark noises, filtered layers and staby synth works.
Ozan Kanik Alarma EP offers a competitive package and delivers many possibilities with respected remixes as well. Enjoy!
FEEDBACKS
D.R.N.D.Y – nice music!
COMMA Group – thanks for sharing!
Giorgio Rusconi – Great ep !!
Luigi Madonna – Thanks for the music
Paco Osuna – Will try thanks
Richie Hawtin – downloaded for r hawtin
Rob Hes – Mr.Bizz remix is nice.
Steve Mulder – Original Alarma & Mr Bizz remix for me!! Great release