Jeton Records Radio Show 059 dubspeeka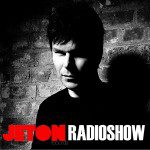 Darren Beale aka dubspeeka from Bristol is our guest for 59th episode of Jeton Records Radioshow. His name is quite new the industry but his background isn`t. As the half of Kosseen who dominated the scene in the nineties and early two thousand, dubspeeka found his paths again by producing a unique way of Techno and as a result he managed to release on Drumcode, True Soul, Bedrock and so on. We are very please to have him in our show and please keep on eye for him for 2016.
Second part features Ferhat Albayrak`s mix as usual. Enjoy !