Atesh K – Mind Loop EP with Ferhat Albayrak Remix [Jeton] JET077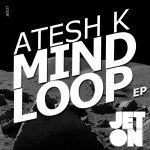 The Seventy seventh release of Jeton Records, originally based in Istanbul and with a branch in Berlin, owned and managed by Turkish Techno Player Ferhat Albayrak, welcomes Cyprius Atesh K with Mind Loop EP.
Our friend Atesh K aka Ates Kozal from Nicosia, Cyprus returns back to Jeton after one year of absence. Mind Loop EP is energic, groovy and catchy as he promised us in his previous EPs.
The Name Track of the EP, Mind Loop is a kind of a loop never ends. Delayed stapy synth work ping-pongs all over the track, with an addition of white noises, glitches and razor sharp drums. It has a perfect groove and takes the whole track always in up-mode.
Ferhat Albayrak Remix of Mind Loop is more uplifting than the original, while maintaining the main loop-hook, layers so much synth, chord and FX works on top of sounds and pumps the whole bottom heaviness. Drops and rises are Ferhat!s style, always in hype mode.
Last Track Synthetic is a track-filler track, just before the peak-times. It has the combination of watery main loop, a very subby bassline and crystal clear drum. Definitely a tension builder.
Atesh K – Mind Loop EP helps you to fill the floor, maintain the crown and make them dance for a long time ! Enjoy !
It will be available on STEMS format as well.