Ferhat Albayrak – Caelum EP [Jeton] JET073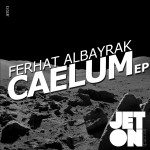 The seventy third release of Jeton Records, originally based in Istanbul and with a branch in Berlin, owned and managed by Turkish Techno Player Ferhat Albayrak, presents Caelum EP.
Caelum features the trademark bottom heaviness of Ferhat Albayrak but combines perfectly balanced distinctive synthed melody and harmony all over the track. It provides a nice drop, spiced-up build and really heavy kick-back. An energetic and crowded peak time weapon.
Agent 47 is one of the most melodic tracks of Ferhat recently. The main melody shapes the track, the harmony accompanies it nicely and the whole percussion elements breath with kick&bassdrum channel. A nice example of how a melodic track can be a pumping Techno peak-hour element.
Ferhat Albayrak – Caelum EP is suggested for peak-time use, with big subbasses and horn-typed highs. Enjoy !
FEEDBACKS
Andy Slate – Caelum (Original Mix) is really good!
Axel Karakasis – downloading, thanks!!
Eddie Halliwell – Passing on to Eddie
Gennaro Le Fosse – solid tunes!
Joy Fagnani – Will try it out, thanks
Paco Osuna – Will try thanks
Richie Hawtin – downloaded for r hawtin
Steve Mulder – Caelum is COOL!!!