Romanolito – Brutal EP [Jeton] JET075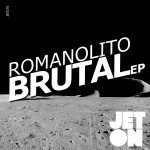 The seventy fifth release of Jeton Records, originally based in Istanbul and with a branch in Berlin, owned and managed by Turkish Techno Player Ferhat Albayrak, welcomes Romanolito with his Brutal EP.
Jeton Records is supporting the new breed from day one and Italian Romanolito is no exception. This 'Ragazzo' is heavily supported by Adam Beyer and has 126 tracks in Beatport Portfolio. His debut EP Brutal promises nothing but bold beats.
The Name Track of the EP, Brutal has a very different kick drum that we faced in all other Jeton Releases. From the day we received the demo, we were focused on kick drum if it is clipping or not but the result is very promising. Brutal is a no brainer and a powerful Techno weapon.
Second track Rabeat covers filtered pads, woobbbling bassline and razor sharp FXs. Drops and lasers take the track in a different mood while alarm like stab occupy your hearing from the beginning. A powerful 4 am weapon for sure.
Romanolito – Brutal EP is not a easy listening work nor a main-stream like tech housey. It is a proper new school Techno and will serve for whenever you need a groove-filler. Enjoy !
FEEDBACKS
Axel Karakasis – downloading thanks!!
Chris Count – very cool and dark 2 tracker!
Dean Facer – Brutal for me, but both are very tasty indeed !
Gabriel Ben – cool tracks, will try.
Gennaro Le Fosse – bangers
Paco Osuna – Will try thanks
Richie Hawtin – downloaded for r hawtin