Bageera – Deep Inside EP [Jeton] JET074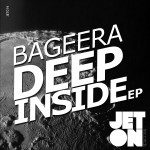 The seventy forth release of Jeton Records, originally based in Istanbul and with a branch in Berlin, owned and managed by Turkish Techno Player Ferhat Albayrak, welcomes once more Bageera with his Deep Inside EP.
Scottish Bageera from the lands of Harvey McKay, Slam and Gary Beck, rises his bar higher since his last EP released last year on Jeton, and perfects his skills and polishes his sound.
The Name Track of the EP, Deep Inside reflects the trademark sound of Bageera. Overall traffic is based on melodic synth and general FX business supports the groove of the track.
Second track features bold kicks, a hooked baseline and weird FXs used as hook of the track. General atmosphere getting up and down by heavily using high-pass filters. A great drop and rise powers the track.
Last Track Faux Pas reminds us 1990's Techno, specially in the arrangement side. A great tom and sawy bass invades the track and perfect per panning &EQing works like a pumping groove additive.
Bageera – Deep Inside EP holds 3 powerful weapon, totally standing out from the crowd, but getting in to the groove and style. Enjoy !
FEEDBACKS
Anthony Pappa – Cool track and l will support it. Anthony Pappa.
Axel Karakasis – downloading, thanks!!
Greg Gow – Deep Inside is dope
Joy Fagnani – Deep inside is a good trip! Will try it, thx
Paco Osuna – Will try thanks
Richie Hawtin – downloaded for r hawtin