Danny Wabbit – Los Oscuros EP – JET149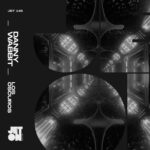 Since 2009, Jeton became the synonym for quality Techno Print, out from Istanbul, where east meets west, one of the fast rising scenes of the globe, always pushing the boundaries, guided by Label Head Ferhat Albayrak.
149th Release of Jeton welcomes Danny Wabbit with his debut EP 'Los Oscuros'.
Danny Wabbit made his Jeton Debut on New Breed Vol.V Compilation last December with his track 'Suffocate'. He is one of the most active new breeds of our scene, after releasing respected labels like Say What?, Phobiq and many others, his driving sound took attention of Marco Grijsen and secured a release on legendary Planet Rhythm.
He also made appearances on Jeton Online Showcases and we definetely recommend you to keep eye on this talented and hardworking artist.
Los Oscuros EP features 4 track of modern raw and hypnotic Techno, without imitating others music, but with character and style.
Enjoy!
Available From Stores
Beatport – 25th June 2021
Worldwide – 9th July 2021
Feedbacks
Anthony Pappa – Solid EP. Thankyou
Danny Tenaglia – Thanks!
Dysinfect – Sirens for us
Eme Kulhnek – dope tracks ! thanks
Ilario Alicante – Thanks for the music!
Joseph Capriati – Thanks !
Paco Osuna – Will try thanks
Richie Hawtin – Downloaded for r hawtin
Sama Abdulhadi – Brilliant grooviness
Thomas Hoffknecht – BU NE AMK? POWWWWW!!! 10 / 10 !!!
Trevor Rockliffe – Cool ep, feeling all tracks
Vinicius Honorio – Excellent release, love these rollers.