Axel Karakasis – Twitch EP [Jeton] JET091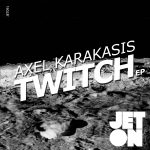 The ninety first of Jeton Records, originally based in Istanbul and with a branch in Berlin, owned and managed by Turkish Techno Player Ferhat Albayrak, welcomes back Axel Karakasis with his Twitch EP.
One of the most respected producers in the Techno scene, Axel Karakasis delivers his third EP on Jeton Records and don't disappoint dark beats followers.
The Name Track of the EP, Twitch is all about another round of relentless beats, dark basslines and menacing melodics. Textured synth workouts and massive FX labelled with associated perfect traffic is for menacing big-room techno halls.
Second track, Open Spaces is pure techno beat-maker arsenal of deep subby kicks, white noise snares, roland hats and assorted foley percussion served with custom kits of sounds and glitches.
Axel Karakasis – Twitch EP represents the new school Techno where Jeton Records stands for ! Enjoy !
FEEDBACKS
Alexander Filimonov [Kiss FM Ukraine] – Nice release, thanks!
Bart Skils – nice rolling groove!
Censer – Full support! Great release!
Darren Rice – Twtitch is a jam!
Dean Facer – Excellent release – both tracks are fantastic
Durtysoxxx – Huge release! Full support.
Giorgio Rusconi – Super Axel !!
Kxel – nice work!! donwloading
Luigi Madonna – Nice Ep, thx
Marco Bailey – Many thanks!
Paco Osuna – Will try thanks
Phil Soren – Thx for promo
Richie Hawtin – downloaded for r hawtin
Roman Finansi – Nice tracks! My fav is Twitch"! Thanks."
Romanolito – Open Spaces Best Track For Me,Great Sound.Thank You
Timmo – nice stuff from Axel Karakasis!