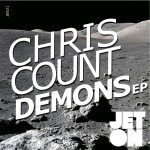 The seventy first release of Jeton Records, originally based in Istanbul and with a branch in Berlin, owned and managed by Turkish Techno Player Ferhat Albayrak, welcomes once more Chris Count with Demons EP.
High supported by Mighty Carl Cox and an Intec Digital Artist Chris Countreturns to Jeton Records with a three tracker EP, harder than his usual sound.
The Name Track of the EP,  Demons is an energic, powerful and armed 4/4 proper Techno bomb. Huge kicks and very upfront drums, the hook of the track and overall traffic all designed for peak-time usage. Chris shows us his darker side of his studio.
Second Track Mr,Hood reminds the the wonderful sound of Mr. Robert Hood. Very clean kicks and basslines, accompaigned by razor sharp 909 perks, toms and highest, finalized with a basic but effective hook. Super clean but super effective.
Last track of the EP,  Caveman is a saturated piece of work. Not only the drums but kicks and synths are saturated as well. This overall tape saturation feeling of the track takes you to an other mood and makes you count the clean vibes dirty.
Chris Count – Demons EP features different taste of music for searchers of different sounds. Enjoy !
FEEDBACKS
Bageera – Quality shizzle, really love Demons . Thanks
Bodyscrub – nice release, thanks!
Christian Varela – good track
Dorroo – Hard to choose but Mr. Hood stands out though! Solid release overall from Chris!
Dubfire – Downloaded for Dubfire, thanks!
Gabriel Ben – wicked tunes. in my mix for sure.
Greg Gow – Will try out the mr hood track
Iain Kirk (Death Techno) – A quality and diverse EP covering good styles. Mr. Hood" has a sublime flow but "Demons" is my stand out choice and I would like to do a DT:Premiere. Many Thanks."
Joy Fagnani – Mr.Hood, big track! Play it for sure
Mark Whitehouse – Big Stuff from Chris Count. Will use all 3. Thanks.
Paco Osuna – Will try thanks
Peja – Bomb thanks!
Phil Soren – Thx for this promo
Richie Hawtin – downloaded for r hawtin
Sam Paganini – Nice Ep! Mr Hood my fav, downloading thanks
Steve Mulder – Caveman is cool!