Jeton Records Radio Show 130 DJ Dextro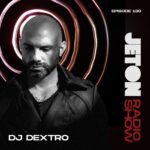 130th episode of Jeton Records Radio Show welcomes DJ Dextro from Portugal. Dextro is one of the most active producers. He learned the art of DJ'ing in the early 90's
and has a different perspective on music. His residencies in several clubs forged his name and helped
him create his own distinctive brand of music. He is also releasing in respected labels like Suara, Naked Lunch, Planet Rhythm and many more.
We are pleased to host DJ Dextro in our Jeton Records Radio Show with his exclusive studio mix. Enjoy!