Jeton Records Radio Show 128 Mark Broom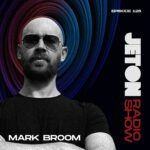 We are welcoming 2022 with 128th episode of Jeton Records Radio Show by Mark Broom from UK. Mark Broom is in the upfront of Techno scene since early 90's and one the few DJ/Producers keeping himself fresh and updated during last decades. Right after raw&hypnotic genre is getting very popular, he is consistently in the front of the charts with his great music released on respected labels like his own Beard Man or Rekids, Edit Select, Soma and many more. We had the privilege to get his remix on Ferhat Albayrak "Groove is The Key" track out on Jeton last year and had a chance to host him in one of Jeton Events in Istanbul back in 2019.
We are very honored to host Mark Broom in our Jeton Records Radio Show with his studio mix reserved just for Robert Hood tracks. Enjoy!