Jeton Records Radio Show 146 Quelza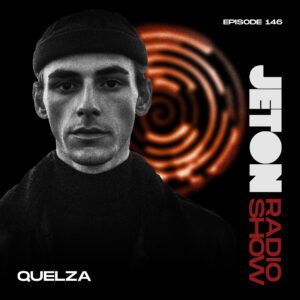 The 146th episode of the Jeton Records Radio Show welcomes Quelza from Berlin.
Quelza, also known as Léo NaïtAïssa, is a Paris-born artist who immersed himself in the arts from a young age. In 2013, he discovered the Parisian electronic scene, which sparked his passion for producing music.
Quelza has gained recognition in the industry, earning the respect of renowned artists like Oscar Mulero, DVS1, and Marcel Dettmann. With releases on labels such as Mord Records and Palinoia, his music showcases a unique blend of crystal-clear sound design and cinematic elements.
Based in Berlin, he has performed at prestigious clubs like Berghain and Fabric London, showcasing his distinct DJ sets. Quelza is a rising star in the techno scene, delivering layered tracks infused with breaks and IDM influences. His dynamic style continues to evolve, captivating audiences with every rhythmic sequence.
We are very happy to host Quelza on our Jeton Records Radio Show with his set recorded live at Ratherlost, Amsterdam. Enjoy!