Pina Tesla – Crop Circles EP – JET155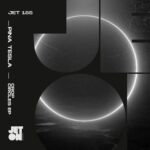 Since 2009, Jeton became the synonym for quality Techno Print, out from Istanbul, where east meets west, one of the fast rising scenes of the globe, always pushing the boundaries, guided by Label Head Ferhat Albayrak.
155th Release of Jeton welcomes back Pina Tesla with 'Crop Circles' EP.
You may heard Pina Tesla name on Jeton events, streams and releases as one the new breeds of Istanbul Techno Scene, she has been consistency improving her skills in every release. Her first appearance on Jeton was in New Breed Vol.5 last December with 'The Messenger' and then her debut Existence EP out in May this year. She also released great music on Frequenza and Fe Chrome labels in the past months. And now it is time to her another 3-trakker EP, Crop Circles. All the tracks are reflecting the new generation of Techno, uplifting, acidy and raw.
Enjoy!
Available From Stores
Beatport – 05th Nov 2021
Worldwide – 19th Nov 2021
Feedbacks
Anthony Pappa – Cool EP. Thankyou
Cristian Varela – Thanks for your music
Dave The Drummer – Yep, acid saves the day!
Dean Facer – Solid! – Fantastic release…
Dysinfect – Solid Release Pina! Crop Circles is our favorite
Greg Gow – Connection for me will play!!
Ilario Alicante – Downloading for Ilario Alicante, thanks for the music!
Joseph Capriati – downloading for joseph capriati, thanks !
Paco Osuna – Will try thanks
Richie Hawtin – downloaded for r hawtin
Sam Paganini – Nice! Downloading thanks
Sama Abdulhadi – nice work
Slam – Thanx
Thomas Hoffknecht – go