Dysfaction – 2602 EP – JET145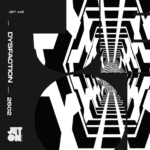 Since 2009, Jeton became the synonym for quality Techno Print, out from Istanbul, where east meets west, one of the fast rising scenes of the globe. Now it is time to make a new corporate identity, always pushing the boundaries, guided by Label Head Ferhat Albayrak.
145th Release of Jeton welcomes back Dysfaction with 2602 EP.
After the success of their first EP out last December on Jeton, Christian Brattig and Jan-Marco Ritter aka Dysfaction is back and they are more serious then before. They signed a jaw dropping track on Pan-Pot's imprint Second State giving their career a clear direction: High quality, mind melting, next generation Techno flanked with strong synthesizer lines and a guarantee to turn peoples head.
This 2602 three-trakker EP is not an exception for their post apocalyptic style; contrasting elements from the past, the present and the future of raving.
Enjoy!
Available From Stores
Beatport – 19th Apr 2021
Worldwide – 3rd May 2021
FEEDBACKS
Anthony Pappa – 2602 is cool. Thank you
Christian Varela – I like it
COMMA Group – Thanks for sharing!
Darren Rice – Belter!
Eddie Halliwell – To check out, thanks!
Eme Kulhnek – nice ep ! thx
Fanny Lifad – Thanks
Gary Martin – I think Kit is cool!
Giorgio Rusconi – Nice EP
Ilario Alicante – Thanks for the music!
Joseph Capriati – Thanks !
Kaizer The Dj – Nice tracks
LAW – Kit for us! Thanks!
Markantonio – Thanks for the music !
Paco Osuna – Will try thanks
Richie Hawtin – downloaded for r hawtin
Slam – Thanx
Spartaque – Cool tracks! Thanks!
Yigitoglu – Great Ep. Well done!