Greg Gow – Conjuring EP [Jeton] JET105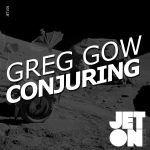 The hundred and fifth release of Jeton Records, originally based in Istanbul, owned and managed by Turkish Techno Player Ferhat Albayrak, welcomes back Greg Gow, with Conjuring EP.
Canadian Techno Star Greg Gow, our great friend and one of our favourite producers returns with a 4 tracker EP, with his Detroit influenced trade-mark sound.
Name track of the EP Conjuring features the trade-mark synth lead of Greg but with a minimalistic usage and with a modern traffic, spiced up by 909 and 808 sounds.
Krypton is the rawest track of the EP, again the classic stab of Greg meets the modern raw sound of New School Techno, carefully crafted few elements and a great EQ usage.
Kinetic Impact is a journey to the roots of the Techno birthplaces, very classic synth work combined by a track long filter takes you to an other level.
Samhain could be your closing track is this EP would be your whole playlist. Perfect combination of harmony with melody builds up the frequencies and ends up nicely until to the end of the track.
Greg Gow – Conjuring EP could be one of your favorite EPs for the upcoming festival season with so many tastes for sure. Enjoy !