Jeton Records Radio Show 084 Simo Lorenz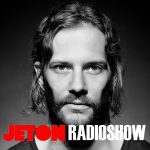 The 84th episode of Jeton Records Radioshow welcomes Simo Lorenz from Germany. A rising star in European Techno Scene, Simo Lorenz was one of our guest in our recent Jeton Records Event at Zorlu PSM Main Theatre together with Sam Paganini and he smashed the room!  It was a great opportunity and we are very glad to have him in Istanbul. This set has been live recorded at our Jeton Records Night at Zorlu PSM Main Theatre, Istanbul on March 2nd.
Second part features Ferhat Albayrak`s live mix taken at Sonar Festival Istanbul 2018 at Zorlu PSM Main Theatre Istanbul as well, closing the main room for Day 1. Enjoy !