Jeton Records Radio Show 083 Carlo Ruetz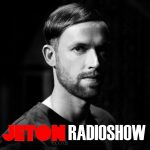 The 83rd episode of Jeton Records Radioshow welcomes Carlo Ruetz from Germany. One of the proteges of Richie Hawtin, Carlo Ruetz has managed to establish his name next to Richie`s events and label MINUS. Also he has been an ambrassador of mighty PLAYdifferently Model 1 Mixer as well, which has been developed by Richie himself. We had a great chance to invite him in Istanbul this month, not only to play in our event at Zorlu PSM Studio, but also for our DJ Workshop at Zorlu again, where we demonstrated Model 1 together with Ferhat Albayrak. It was a great opportunity and we are very glad to have him in Istanbul. This set has been live recorded at our Jeton Records Night at Zorlu PSM Studio, Istanbul on March 3rd.
Second part features Ferhat Albayrak`s live mix taken at Zorlu PSM Main Theatre Istanbul as well, opening set for Sam Paganini. Enjoy !