Ferhat Albayrak – I Love You [Jeton] JET103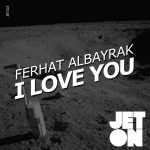 The one hundred and third release of Jeton Records, originally based in Istanbul, owned and managed by Turkish Techno Player Ferhat Albayrak, presents I Love You.
First time in the history of Jeton Records, since 2009, we are releasing a single. Because it has to be uniquely released, it is so special that no other track can be next to it. It is called 'I Love You'
It is a basic statement to a special person, with a special formula. A vocal from the past, a melody which is cleverly ascending and a climax which has a double layer. Mostly a formula that we witnessed in other Ferhat's tracks but this time in a perfect harmony.
Ferhat Albayrak – I Love You is the most special track ever created for him and I hope you will feel the same goose-bumps as well. Enjoy !
FEEDBACKS
Alan Cutt – Awesome !!!!
Alexander Filimonov [Kiss FM Ukraine] – Downloading for KISS FM, thanks!
Arjun Vagale – very nice
Atesh K. – Too melodic for me but I will give it a try. Thanks.
Bageera – Nice . Will play. thanks
COMMA Group – thanks for sharing!
Dorroo – Really nice one
Drumcomplex – perfect tune for a festival closing track … thanks mate
Giorgio Rusconi – Nicee!
Greg Gow – Cool Stuff will love the melodics
Luigi Madonna – Thanks for the music.
Paco Osuna – Will try thanks
Richie Hawtin – downloaded for r hawtin
Romanolito – Nice Work,Support.Thank You.
Ugur Project – Full Support, Thanx 🙂
Vinicius Honorio – Trippy, emotional, def giving this a spin! Thank you guys!