Various Artists – One Hundred [Jeton] JET100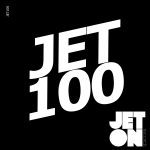 A Milestone; The Hundredth release of Jeton Records, originally based in Istanbul, owned and managed by Turkish Techno Player Ferhat Albayrak, proudly presents VA One Hundred ; A Music Collection of last 20 Releases.
Established in July 2009, Jeton Records has managed to release its 100th release in 9 years, and has managed to get into DJ Bags of The worlds Finest Artists; a moment of proud for us. One Hundred is a compilation of the last 20 Releases of Jeton Records, published in almost 2 years, limited to 10 tracks. We would like to thank all the producers for their massive contributions and to our followers who make us one of the Important Techno Labels in the industry, for the last 9 years! A Giant Thank You to All !
FEEDBACKS
Alexander Filimonov [Kiss FM Ukraine] – Thanks, will support!
Audiojack (Jamie) – Teenage Mutants Remix is cool.
Censer – Great sound!
COMMA Group – thanks for sharing!
Cristian Varela – Downloading for Cristian Varela, thank you very much!
Dean Facer – Excellent release – downloading for a proper listen!
Durtysoxxx – Teenage Mutants remix phat!
Giorgio Rusconi – Super V.A. !!
Joy Fagnani – Boycott (Teenage Mutants Rmx) and Kxel Mind for me here, thanks!
Luigi Madonna – Thanks for the music.
Paco Osuna – Will try thanks
Phil Soren – Thx for promo
Richie Hawtin – downloaded for r hawtin
Rob Hes – Never give up stands our here! Congrats with number 100 Ferhat!
Romanolito – Mad Gamma By Ferhat Albayrak Best Track For Me.Thank You
Steve Mulder – Congratz!!! Geat to be part of the Jeton history
Vinicius Honorio – Oh, good times!