Kxel – KDrum EP [Jeton] JET092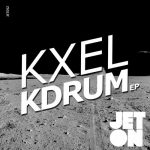 The ninety second release of Jeton Records, originally based in Istanbul and with a branch in Berlin, owned and managed by Turkish Techno Player Ferhat Albayrak, welcomes back Kxel with his K-Drum EP.
After the success of his debut EP 'Mind' last June, Kxel is returning to Jeton Records with a massive three trakker.
The name track of the EP K-Drum is a raw meal. Recent times see Techno Raw Sound come-back to the scene and K-Drum is not an exception. Very dirty and saturated drums, very low subs, no melody, no harmony, neats beats is the formula of this sound.
Second Track Metal features a great bass-line, very familiar vintage analog sound reproduction fills it all the track long and a nicely managed traffic & drum works make the track suitable for dance floor.
Last track of The EP Reload is a pure 4/4 beat as well, selected hooks, FXs and drums drive the track and general reverb atmosphere builds the drop and the rise.
Kxel – K-Drum EP promises the respected raw sound of the genuine 4/4 Techno. Enjoy !
FEEDBACKS
Censer – Great release! Thank you for promo.
D.R.N.D.Y – solid EP
Giorgio Rusconi – Niceee!!
Pig &Dan – cool stuff 🙂
Richie Hawtin – downloaded for r hawtin