Jeton Records Radio Show 067 Raxon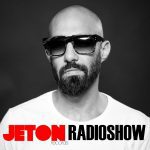 Raxon is the 67th Guest of Jeton Records Radioshow. The Egyptian, born and raised in the United Arab Emirates, his time spent as a resident Dj for audio tonic in Dubai has exposed him to a wide variation of sound, most importantly the influences of quality dance music! Since then, he has released and worked with some of the industry's most respected imprints and artists including Noir Music, Tronic, Culprit, Sincopat and Moodmusic. Based now in Barcelona, Raxon's fan base and reputation continue to grow around the world with the power of his amazing mix Reste of Olivier Giacomotto & Noir, out on Tronic, officially his breakthrough track. We are very pleased to host Raxon in our Jeton Records Radio Show with his recorded mix at Estonia.
Second part features Ferhat Albayrak`s mix as usual. Enjoy !