Atesh K. – Torque EP [Jeton] JET088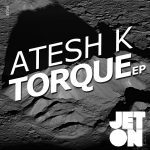 The eighty eighth release of Jeton Records, originally based in Istanbul and with a branch in Berlin, owned and managed by Turkish Techno Player Ferhat Albayrak, welcomes again Cyprius Atesh K with Torque EP.
Our friend Atesh K aka Ates Kozal from Nicosia, Cyprus returns back to Jeton after almost one year of absence. After his successful EPs 'Dirty Party' & 'Mind Loop', he promises again beats built for the dance floor.
The Name Track of the EP, Torque is a powerful 4/4 er. He usually has so many clues from early 2000's minimal Techno sounds in his productions but this time, he delivers so much beat and white-noises, by maintaining his unique touch.
Second track Traction is also a bold peak-time track, again sauced with so much noises, low sub-basses and a great traffic makes you hype in the right moment, right time.
Last track Combustion features a FXish stap synth, covers the track and let you focus in this repetetive sound without forcing you leave the main beat. A great piece of B side.
Atesh K. – Torque EP is a statement of an evolving artist, a signature of his progress by keeping his unique sound. Enjoy !
FEEDBACKS
Alexander Filimonov [Kiss FM Ukraine] – Nice release, thanks!
Ascon – very nice ep! will play
Axel Karakasis – downloading, thanks!!
Censer – Thank you for promo. Great release!
Chris Count – Not too much techno here for me but cool tech house tracks for the sets! 🙂
Doruk Guralp – Torque!
Luigi Madonna – Great music, thx
Paco Osuna – Will try thanks
Phil Soren – Thx for promo
Richie Hawtin – downloaded for r hawtin
The Reactivitz – Torque is nice!
Tomy De Clerque – torque is great