Kxel – Mind EP [Jeton] JET086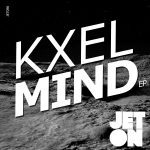 The eighty sixth release of Jeton Records, originally based in Istanbul and with a branch in Berlin, owned and managed by Turkish Techno Player Ferhat Albayrak, welcomes Kxel with his debut Mind EP.
Kxel is a rising artist from Spain, managed to release on A.Paul's Naked Launch in the beginning of his career. As always we count on the music not on CV so Kxel is a great example of our mentality.
The name track of the EP Mind is a heavy weapon. Not so many elements shaping the track but existing ones have been shaped nicely. Industrial hooks and stabs are catching your attention and very heavy bottom end holds you with sub frequencies.
Second track Shine is bursting with rolling sub bass, stabby pads and jacked drum funk, the track delivers an uncompromising collection of underground groove.
Kxel – Mind EP is very heavy, hitting, bold proper Techno EP for followers. Enjoy !
FEEDBACKS
Alexander Filimonov [Kiss FM Ukraine] – Nice release, thanks!
Ascon – very nice work
Axel Karakasis – downloading, thanks!!
Bageera – Nice ep thanks
Censer – Mind is very Cool! My Support !
Dorroo – Mind is for me
Gabriel Ben – will try
Gforty – Mind for me! Thanks!
Joy Fagnani – Mind for me here, will try it out!
Kyle Geiger – Nice one!
Luigi Madonna – Great music, thx
Marco Bailey – Many thanks!
Paco Osuna – Will try thanks
Phil Soren – Thx for promo
Richie Hawtin – downloaded for r hawtin
Sam Paganini – Nice! Downloading thanks