Ferhat Albayrak – Mad Gamma EP [Jeton] JET082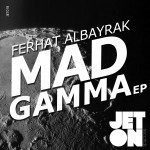 The eighty second release of Jeton Records, originally based in Istanbul and with a branch in Berlin, owned and managed by Turkish Techno Player Ferhat Albayrak, presents Mad Gamma EP.
Name Track of the EP, Mad Gamma is a powerful peak time monster. This is a sound that you are familiar with Ferhat , very powerful bottom heaviness, raw percussions and space'ed reverbs. In this track on top of all ingredients, there is a huge acidy synth and pads, filtered all the track long, forms the main architedture of the sound and pushs it forward, something is getting very saturated. A real peak-time weapon.
Thiz iz Zit is a form of 4/4 simple beats. Simple but trying to be effective. Main bass is woophy, fat and distorted. Overall traffic is simple again but it definitely works. Created as a bridge track in mind, Thiz iz Zit could be used in various selections.
Ferhat Albayrak – Mad Gamma EP features 2 doses of sub basses, bold kicks and saturated synth works. Enjoy !
FEEDBACKS
Andy Slate – YES!!! THIS IS IT!!! Awesome fkn tekkno!
Bodyscrub – nice release, thanks!
Gforty – Loving Mad Gamma, I will play for sure! Thanks
Max Van Der Rose – supported by mvdr
Paco Osuna – Will try thanks
Richie Hawtin – downloaded for r hawtin
Romanolito – Mad Gamma For Me,Cool Track,Thank You.