Peja – Sigint EP [Jeton] JET081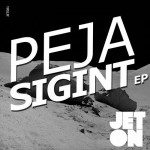 The eighty first release of Jeton Records, originally based in Istanbul and with a branch in Berlin, owned and managed by Turkish Techno Player Ferhat Albayrak, welcomes back Peja, with Sigint EP.
Italian Techno Power Peja returns to Jeton Records after a break of 2.5 years, we definitely missed his powerful beats.
Name track of the EP Sigint is a very uplifting piece of Techno, featuring a reverse pumping bassline and very sharp drums. A background atmosphere is always on while filtered in&out side FXs nitrites the whole track, very catchy and very energic work of Peja.
Second Track Smooth & Crunchy is not a name for gofrette nor a regular beat. A serious kick is on the surface and old-school synth stabs drives the work in forward. Very saturated taste of the track is what Pejawas looking in this project and he has a good of taste as like all the Italians in the scene.
Peja – Sigint EP is powerful, energic, uflifting and peak-time work of art. Enjoy !
FEEDBACKS
Axel Karakasis – downloading, thanks!!
Bageera – Nice stuff, will try . Thanks
Bodyscrub – nice release, thanks!
Chris Colburn – Cool! thanks
Dorroo – Sigint" is my favourite here"
Fabio Ferro – Smooth & Crunchy" is my fav
Gabriel Ben – lovin the Smooth track! Wicked. will play for sure
Giorgio Rusconi – Super Ep ! Support!
Joy Fagnani – Smooth & Crunchy is great! Will try!
Paco Osuna – Will try thanks
Richie Hawtin – downloaded for r hawtin
Romanolito – Nice Ep,Sigint For Me,Good Track.Thank You.