Ferhat Albayrak – Stolen Moments EP [Jeton] JET076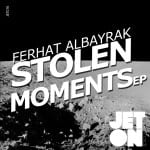 The seventy sixth release of Jeton Records, originally based in Istanbul and with a branch in Berlin, owned and managed by Turkish Techno Player Ferhat Albayrak, presents Stolen Moments EP.
Name Track of the EP, Stolen Moments combines 4 different layer of synths as a harmony and a super filtered and delayed hook as a main melody. Bold kicks power-ups the track and a nice drop&rise make the track suitable for dance-floor use. A melodic and driving piece of work.
Nice Diversion on the other hand is a very minimal track in term of ingredients of the work. A very big kick and low bass-line are the main aspects and pumping hook-synth forms the groove of the track. A very powerful and a very clean weapon suitable for add-ons and preparation of the peak-time usage.
Ferhat Albayrak – Stolen Moments EP could be a great tool for both peak-time and warm-up usage. Enjoy !
FEEDBACKS
Axel Karakasis – downloading, thanks!!
Bageera – Quality grooves. Thanks
Chris Count – Nice done, Thank you…
Dorroo – Stole Moments for me! Nice one!
Dubfire – Downloaded for Dubfire, thanks!
Gabriel Ben – Nice one.
Paco Osuna – Will try thanks
Phil Soren – Thx for promo
Richie Hawtin – downloaded for r hawtin
Roman Finansi – only Stolen!!!
Romanolito – very good music,total support.stolen moments for me thank you