Atesh K – Dirty Party EP [Jeton] JET061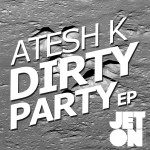 The Sixth First release of Jeton Records, originally based in Istanbul and with a branch in Berlin, owned and managed by Turkish Techno Player Ferhat Albayrak, welcomes Cyprius Atesh K with Dirty Party EP.
Atesh K aka Ates Kozal was born in Nicosia, Cyprus. In the early 90s he was influenced by the electronic music emerged from Detroit and Berlin which is called Techno. In 2005 he started Regular Beats Records with his partner, Mustafa Goze. As a matter of fact like for almost every successful producers, his tracks got attention of big names, like a regular Atesh K track's player Richie Hawtin. We are quite excited to welcome this talented DJ/Producer in our label and his eclectic original beats.
The Name Track of the EP, Dirty Party is nothing but groove. Simple beats accompanied by simple percussion, simple white noise and simple main lead, forms a wonderful groove Tech Beat. A recommended floor-filler track.
Second Track Poison constructs an environment like you are in the middle of a bug invasion and trying to survive with an antidote poison. Sawy leads, mattery drums and razor-sharp FXs tells you a story with a different perspective.
Atesh K – Dirty Party EP shows how a new talent can dominate the dance-floor, make you surprise and take the crowd happy! Enjoy !
http://www.beatport.com/release/dirty-party-ep/1363575
FEEDBACKS
Richie Hawtin – downloaded for r hawtin
Axel Karakasis – great, thanks!!
Tomy De Clerque – great tracks … will play dirty party for sure
Gforty – Dirty Party for me! great tune!
Stanny Franssen – I'll try Dirty Party
Joy Fagnani – Not really my style but Dirty party is a cool track
Dandi & Ugo (Italo Business) – nice sounds !!!
Phil Soren – Thx for this promo !
Dean Facer – Loving the feel of Dirty Party"….."
Gabriel Ben – nice tune. will play!
DJ Misjah – release date?