Ferhat Albayrak – Potenza EP [Jeton] JET057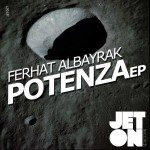 The fifty seventh release of Jeton Records, originally based in Istanbul and with a branch in Berlin, owned and managed by Turkish Techno Player Ferhat Albayrak, presents Potenza EP.
The Name Track of the EP, Potenza brings pumping grooves, by featuring solid low-end bass-line/tight kick combo and also with off-beat snares and percussion. Simple hook drives the track and an overall dark atmosphere loop finishes the general rhythm. Definitely an after-hour ammo !
In The Myth We Live is a track of big festivals, main stages and peak time usages, we mean it. It has a big stab surrounding the track from the beginning to the end and a huge drop and built-up designed just for let you drive the crowd crazy. Be aware of its impact and just use it when necessary !
Ferhat Albayrak – Potenza EP promises you no other than sub-shaky low-end and driving grooves ! Enjoy !
http://www.beatport.com/release/potenza-ep/1293567
FEEDBACKS
Richie Hawtin – downloaded for r hawtin
Dubfire – Downloaded for Dubfire by Ronald
Sasha Carassi – Nice!
Axel Karakasis – great tracks, thanks!!
Tom Hades – Loving Potenza ! Good track ! thx !
Peja – Potenza for me thanks.
Gabriel Ben – solid tracks again. will play
Roel Salemink – In The Myth We Live is big!!!! Thanks Ferhat
Dandi & Ugo (Italo Business) – POTENZAAAAAAAAAAAA
Bageera – Great stuff, Will play thanks
Dean Facer – Very nice indeed ! Both tracks will be supported !!