Chris Count – Expander Bitch EP [Jeton] JET048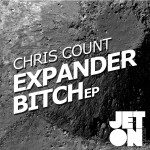 The forty eighth release of Jeton Records, originally based in Istanbul and with a branch in Berlin, owned and managed by Turkish Techno Player Ferhat Albayrak, welcomes German Chris Count with Expander Bitch EP.
Chris Count name has to be very familiar to you if you follow Carl Cox playlists. For more than 2 years, Carl plays minimum one track of Chris in his sets. He also signed him to Intec and his "The Way To Bangkok EP" was No.2 Best Selling EP of Intec in 2012. His original, energic and nicely mixed sound is perceptible in one shot.
The name track of the EP, Expander Bitch, drives mainly acidy FX followed by nicely balanced snare/hats combo. Overall sounds are a nice combination of rich and clean percussive drums with a main FX hook.
Lovley (Tech Dub Mix) boosts a subby bass-line spiced up with real drums sounds and drives nicely all the track long. A drop and a decent build-up takes the track to layer by layer.
Spaceman features a side-chained chord, surrounds all the track long, accompanied by powerful snares and congos. Big kicks pumps the track, while background atmospheres fulfill nicely.
Chris Count – Expander Bitch EP is again a nice quality production example which reflects the real Jeton sound, which you are familiar for 4 years. Enjoy !
http://www.beatport.com/track/expander-bitch-original-mix/4564504
FEEDBACKS
Marco Bailey – May Thanks
Richie Hawtin – downloaded for r hawtin
Steve Mulder – Spaceman for me!!! Awwesome track
Gabriel Ben – Lovley for me. Nice one
Davy Dee – Spaceman for me, off course…
Luke Creed – Thanks for this
Phil Soren – Thx for this promo
Gforty – full support! loving the tracks, specially Spaceman, will play for sure
Microvibez – Lovley is my fav!