Ferhat Albayrak – Slave Code EP – JET042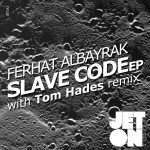 The forty second eighth release of Jeton Records, originally based in Istanbul and with a branch in Berlin, owned and managed by Turkish Techno Player Ferhat Albayrak, presents Slave Code EP with Tom Hades Remix.
Jeton Records welcomes 2013 with a powerful weapon from label head Ferhat Albayrak, following The Techno Wizard Tom Hades killer remix.
Slave Code, is a track which combines a subsynth bassline with a high kick, flavored with fx like white-noises, cymbals, organic percussion and a main hook/synth filtered and saturated all the time. A real main-room filler…
Tom Hades Remix has the same flow but with different elements. Main stab is a modified and super filtered/panned vocal sample, accompanied with a repetitive bassline, tribal hits and quirky circuit-derived sounds. Trade-mark Tom Hades sound never disappoints.
Ferhat Albayrak – Slave Code EP will be your 'premiere' ammo to be used on the first gigs of the year 2013 and we hope it will stand all year long, by destroying the crowd.
Enjoy !

FEEDBACKS
| | | |
| --- | --- | --- |
| Angel Costa | – | I try otiginal, thanks. |
| Gabriel Ben | – | Tom's mix is rockin! |
| Davy Dee | – | Both tracks are BOMBS !!! Full Support ! |
| Lance Blaise | – | will try out.  cheer. |
| Axel Karakasis | – | great release!!! both mixes are superb |
| Roman Finansi | – | Tom Hades remix is good!!! |
| Luigi Madonna | – | great tracks!!.. tnx |
| Stanny Franssen | – | Full support from my side. |
| Luke Creed | – | Nice , thanks |
| Roel Salemink | – | Really big EP, Tom's remix is my favourite |
| Dubfire | – | downloading for Dubfire, thank you! |
| Marco Bailey | – | thanks ! |
| Drumcomplex | – | bomb alert…both mixes are brilliant |
| Richie Hawtin | – | downloaded for r hawtin |
| Peja | – | Full support,Tom Hades mix for me |
| Sasha Carassi | – | Love the Tom Hades Mix! |
| Dean Facer | – | Great release…. both the original and Tom's interpretations are superbly produced!! |
| Steve Mulder | – | LOVE the Tom Hades remix! Full Support |
| Dimitri Kechagias | – | happy new year Ferhat! thanks for the promo,Dimitri Kechagias review: Ferhat Albayrak is a very talented dj and producer with ability to rock the dancefloors. His latest upfront anthem is called Slave Code and will become instantly your favourite. If you like techno tracks with great atmosphere, pumping beats, bubbly delicius basslines with some synthy work on top you will adore this tune that even make me dance while I'm writting these lines. It has that instant effect that strikes you with the first hearing of it. Tom Hades remix moves on the same direction of the upfront techno sound that is definitely peak time and slamming and has that magnet to hook you as soon as you play it in your set. Cool vocal samples, darker deeper basslines and punchy beats to hit you in your stomach. Techno is the King, Love iT! review link:  http://fluxbpmonthemove.blogspot.gr/2013/01/review-ferhat-albayrak-slave-code-ep.html |