Various Artists – Zero Forty – JET040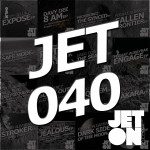 The fortieth release of Jeton Records, originally based in Istanbul and with a branch in Berlin, owned and managed by Turkish Techno Player Ferhat Albayrak, proudly presents VA – Zero Forty ; A Music Collection of last 20 Releases.
Established in July 2009, Jeton Records has managed to release its 40th release, and has managed to get into DJ Bags of The world's Finest Artists; a moment of proud for us.
Zero Forty is a compilation of the last 20 Releases of Jeton Records, published in almost 2 years, limited to 10 tracks.
We would like to thank all the producers for their massive contributions and to our followers who make us one of the Important Techno Labels in the industry, in just 40 months ! A Giant Thank You to All !
See you on the 60th!
FEEDBACKS
| | | |
| --- | --- | --- |
| Richie Hawtin | – | download for r hawtin |
| Dubfire | – | downloading for Dubfire, thank you! |
| Sam Paganini | – | Nice VA! Orphanage" my fav but all tracks are good |
| Stanny Franssen | – | Nice compilation, loads of cool tracks. Hard to choose a favourite one. |
| A Paul | – | downloading for a.apaul to listen to |
| Bodyscrub | – | huge package! |
| Gennaro Le Fosse | – | Great trax on a really solid label! its hard to pick a fav! Support! |
| Monocraft | – | Thanks… Ferhat Albayrak – Ater Modus (Hans Bouffmyhre Remix) for me. |
| Luis Bonias | – | nice packege..will test |
| Paco Osuna | – | downloaded thanks 🙂 |
| Davy Dee | – | Full support ! Requiem (Tom hades Remix) and off course the Davy Dee (Ferhat Remix) are already in my fly case… |
| Dean Facer | – | Superb EP throughout ! |
| A-Brothers | – | great release. thanks… |
| Phil Soren | – | Some nice tracks – Thanks |