Jeton Records Radio Show 126 Temudo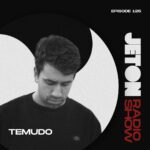 126th episode of Jeton Records Radio Show welcomes Temudo from Portugal. Temudo is part of a new generation of artists whose work relies on the contemporary approach to Techno. His music allies the soul of the genre with a modern methodology, and has the seal of genre defining labels like Klockworks, Soma, Modularz or Mord and many more.
The Portuguese João Rodrigues started his alias Temudo in 2014, after a period into the Drum and Bass scene. The Drum and Bass influence can be heard not only on the detailed sound design and low end focus of his music, but also on the energetic and eclectic 3 deck sets he has to offer.
João describes himself as a nerd for audio processing, composing techniques and solving puzzles in the pursuit of the perfect mix. His background in Jazz, a Degree in Sound and a Master Degree in Music and Technology gave him the tools for the unorthodox experiments he takes in the studio. It is fair to say that Temudo is one the Portuguese Techno main characters.
Very pleased to host Temudo in our Jeton Records Radio Show with his exclusive studio mix. Enjoy!