Mehmet Ozbek – Cold Blood EP – JET151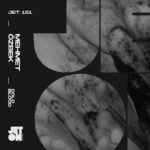 Since 2009, Jeton became the synonym for quality Techno Print, out from Istanbul, where east meets west, one of the fast rising scenes of the globe, always pushing the boundaries, guided by Label Head Ferhat Albayrak.
151st Release of Jeton welcomes back Mehmet Ozbek with his 'Cold Blood' EP.
Mehmet Ozbek is a hard worker in terms of music production and he is one the new breeds of Turkish Electronic Music scene. After his debut EP 'Instant Insanity' on Jeton Records last year June, he has started his own label Extima w/ Zafer Atabey and he has expanded his catalog by releasing great music on Senso Sound, IAMT, Renesanz, Made in Brussels and many more.
Cold Blood EP is a three-trakker, consists of high energic new generation peak-time tracks as you would expect from Mehmet.
All tracks has been road-tested and started playing in front of real crowd!
Enjoy!
Available From Stores
Beatport – 30 Jul 2021
Worldwide – 13 Aug 2021