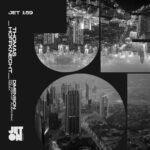 Since 2009, Jeton became the synonym for quality Techno Print, out from Istanbul, where east meets west, one of the fast rising scenes of the globe, always pushing the boundaries, guided by Label Head Ferhat Albayrak.
159th Release of Jeton welcomes Thomas Hoffknecht debut single 'Dimensions'.
Thomas is one the rising stars of proper Techno Scene, all the way from Hamburg Germany and got amazing releases on Drumcode, KD Raw, his own STRGHTx and many more. His style can be described as the new generation of Detroit Techno Sound while maintaining iconic elements of the iconic genre.
Dimensions is a work of polymetered synth accompaigned by his signature drums and amazing traffic, not for Spotity but real DJs.
Ferhat Albayrak Remix adds little bit darkness to the track, without changing the overall atmosphere, background strings and powerful stabs complete the package, definitely not a B Side track.
Thomas Hoffknecht 'Dimensions' could be your main weapon just in the beginning of your 2022 case.
Enjoy!
Available From Stores
Beatport – 28th Jan 2022
Worldwide – 11th Feb 2022
FEEDBACKS
Cristian Varela – Excellent for my aka CUBR1K, thanks for your music!
Drumcomplex – nice one guys like both versions
Eddie Halliwell – Downloading for Eddie to check out, thanks
Eme Kulhnek – blasstt !! good release ! thanks
Gary Martin – That's pretty cool in a dark techno way.
Greg Gow – will try out
Hollen – Original is cool
Horatio – ferhat remix is ace
LAW – will support
Marco Carola – Downloading for Marco Carola, thanks.
Monika Kruse – Big Fan of Thomas ! good release !
Paco Osuna – Will try thanks
Pina Tesla – great tracks!
Richie Hawtin – downloaded for r hawtin
The Advent (Kombination Research) – very dope .. like more Thomas Hoffknecht – Dimensions (Ferhat Albayrak Remix)
Thomas Hoffknecht – BABA GIBI AMK!!!