Ugur Project – Phoenix EP [Jeton] JET116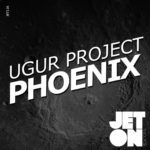 The one hundred and sixteenth release of Jeton Records, originally based in Istanbul, owned and managed by Turkish Techno Player Ferhat Albayrak, welcomes back Ugur Project with Phoenix EP.
Jeton's Ugur Project is a veteran Techno-Head for decades and has an important role in Turkish Dance Music Scene. Mainly in Jeton Events and Showcases, he played with almost all the important artists of the scene and has a great talent on production skills as well.
His last EP on Jeton Zenith received great support from important artists like Richie Hawtin and Ilario Alicante to name a few.
He returns to the label with a great four-trakker, all tested and focused for the dance-floor. His sound is evolving every release and he escalated his career by signing to Great Stuff Recordings last summer as well.
Ugur Project – Phoenix EP is a full spectrum, full of various choices for the dance-floor. Enjoy!
FEEDBACKS
2pole – Rotation is the one for us!
Carmello Ponente – Such a great release. All the tracks are very good. Will def support this one!
Chris Collins – Really like Pulse, defo the stand out track for me, thanks
Eme Kulhnek – rush forme ! thanks !
Horatio – nice tracks
Ilario Alicante – Downloading for Ilario Alicante, thanks for the music!
Joseph Capriati (Drumcode) – downloading for joseph capriati, thanks !
Joy Fagnani – Good release! Phoenix and Pulse are great!
Lasawers – thanks
Luigi Madonna – great music! tnx
Marco Carola (Minus / Plus 8) – downloading for Marco Carola, thanks
Mike Humphries – pulse. thnxx
Paco Osuna – Will try thanks
Pascal FEOS – thx for the music
Richie Hawtin – downloaded for r hawtin
Riza Gobelez – Love it!
Slam (Soma / Paragraph) – Thanx
Spartaque – Cool tracks! Will play!
The Advent (Kombination Research) – Rotation (Original Mix)