Jeton Records Radio Show 076 Stiv Hey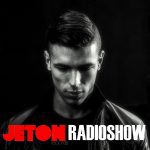 76th episode of Jeton Records Radioshow welcomes Stiv Hey from Italy. It's unusual for an artist's first releases to be acknowledged by Dubfire, Richie Hawtin, Adam Beyer, and Marco Carola. Then again, Stiv Hey isn't your usual artist. Approaching the genre with a contemporary edge, Hey creates punchy, melodic techno backed by sexy instrumentals. SCI+TEC artist, Hey has already begun to see sold-out performances on an international scale. His 'Venture' EP out on Jeton Records few months ago is getting hammered by Richie Hawtin almost in his every set. We are very pleased to have him in our radioshow.
Second part features Ferhat Albayrak`s mix as usual. Enjoy !