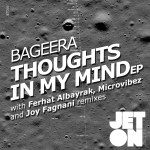 The Fifth Sixth release of Jeton Records, originally based in Istanbul and with a branch in Berlin, owned and managed by Turkish Techno Player Ferhat Albayrak, welcomes Scottish Bageera with Thoughts in My Mind EP in collaboration of Ferhat Albayrak, Microvibez & Joy Fagnani Remixes
Bageera aka Stephen Johnstone is a talented producer born and raised in Scotland, just like Gary Beck & Hans Bouffmyhre or Soma Records. From the land of New Generaion of Techno Sound, expect nothing but his roots from him.
The Original Mix is driven by a super saturated vocal and sub-low bassline. Accompanied by powerful toms and cymbals, the track character becomes difficult to resist.
Ferhat Albayrak Remix uses only an atmosphere of original vocal and adds more groove and rhythm by using modern Techno drums and percussion. Expect a nice drop as well.
Microvibez gets the low subs lower than the original and takes the track to the maximum. Spiced up with even more cymbals, The Track transforms to an 3am Weapon.
Joy Fagnani likes 4/4 drums and shows clearly on his remix why. Sometimes they say "Less is More" and Joy is trying to prove it with his talent. Very driving, huge kicks and 2/2 loops. Quite Original.
Bageera – Thoughts in My Mind EP has 4 different versions and we hope you can find your favorite among those beautiful works; at least one ! Enjoy !
http://www.beatport.com/release/thoughts-in-my-mind-ep/1269091
FEEDBACKS
Steve Mulder – Ferhat's remix for me!!
Axel Karakasis – downloading, thanks!!
Pedro Delgardo – good, mastering is all over
Affani – Full Support
Gabriel Ben – Microvibez remix for me. nice one.
Roel Salemink – Nice EP, Microvibez remix for me!
Phil Soren – Thx for this EP
Sasha Carassi – Great EP ! Thank you!!
Richie Hawtin – downloaded for r hawtin
Drumcomplex – great release from our buddy bageera