Jeton Records Radio Show 035 Guest Anja Schneider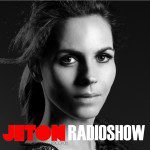 The Beauty of our scene, Mobilee Records Founder and a proud mom, Anja Schneider is our guest for this month`s Jeton Records Radioshow. Even with a super busy international schedule, she managed to support so many artist to the industry like Pan-Pot, Sebo K and Rodrigez Jr. She is making this "Black V-Neck T-Shirt" Techno scene more beautiful. We are "Dancing Under The Blue Moon" for hosting her in our show!
Second part features Ferhat Albayrak mix as usual. Enjoy !