Ugur Project – Hybrid EP [Jeton] JET123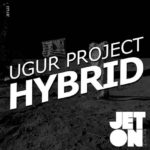 The one hundred and twenty-third release of Jeton Records, originally based in Istanbul, owned and managed by Turkish Techno Player Ferhat Albayrak, welcomes back Ugur Project with Hybrid EP.
One of the A-pilllars of Jeton who playing a main role on both label and events and after recent releases on Tronic, Elevate and Great Stıuff, Ugur Project's productions are getting played by A-listers from all around the globe, Richie Hawtin, Gregor Tresher, Christian Smith to name a few.
He returns to the label with a great four-trakker, all tested and focused for the dance-floor. His trademark sound is getting recognized easily by the mixing quality and by the total grooves of the tracks.
Ugur Project – Hybrid EP reflects the hidden element of the dance-floor; groove! Enjoy!
FEEDBACKS
Carmello Ponente – Will support !
COMMA Group – thanks for sharing!
Eme Kulhnek – prisma for me , thanks !
Eric Powell – solid
Greg Gow – JEWELS WILL PLAY THX
Ilario Alicante – Downloading for Ilario Alicante, thanks for the music!
Kuvoka – Cool EP, Thanks!
Lasawers – wowwwww!! amazing ep but hybrid for me is a top tune thanks
Luigi Madonna – Downloading for Luigi Madonna. Thanks!
Marco Carola (Minus / Plus 8) – downloading for Marco Carola, thanks
Markantonio РDownloading for Markantonio…thanks for the music !
Mertens – Quality groove!
Mike Humphries – 1st 2 tracks are sweet
Pig &Dan – cool ep will give it a try
Richie Hawtin – downloaded for r hawtin
Slam (Soma / Paragraph) – Thanx! Support!
Spartaque – Cool tracks! Thanks!