Ugur Project – Freaks EP [Jeton] JET102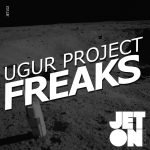 The one hundred and second release of Jeton Records, originally based in Istanbul, owned and managed by Turkish Techno Player Ferhat Albayrak, welcomes back Ugur Project with Freaks EP.
After the success of La Pompa EP last year, Ugur Project name is getting heart in global Techno Scene too. He is frequently playing at Jeton Events and became one of the main players of the label with his unique sound and technique. This EP is no exception.
The name track of the EP Freaks has been hammered by labelhead Ferhat Albayrak for a long time and the reaction of the crowd were amazing. A great off-beat hook synth drives the track and an amazing rise takes the audience to the elevator. A real A-Sider.
Second track Nightshade is another driving beast, accompanied with a great pumping bassline, back atmos and synthy hooks complete the work.
Last track of the EP Deeperz is the melodic side of the EP. Acidy stab takes the control of your ears, carefully selected vocal and percussion elements fulfill the track nicely.
Ugur Project – Freaks EP is a piece of quality and hard-work. Enjoy !

FEEDBACKS
Atesh K. – Nice one.. I will play for sure… thanks.
D.R.N.D.Y – good stuff!
Alexander Filimonov [Kiss FM Ukraine] – Thanks, will support!
Antony Dupont – Wow ! I love the kinda locomotion" feeling of Deeperz !!! Great Job !! Will play this !!!"
Bageera – Nice vibes. Thanks
COMMA Group – thanks for sharing!
Cristian Varela – Good music
Dean Facer – Oh yes…… oh yes ! Massive !
Doruk Guralp – Support.
Gforty – Great release! Thanks
Giorgio Rusconi – Niceeee!
Greg Gow – deeper is cool
Luigi Madonna – Thanks for the music.
Max Van Der Rose – cool
Ozan Kanik – Great pack!
Paco Osuna – Will try thanks
Phil Soren – Thx for promo
Richie Hawtin – downloaded for r hawtin
Spartaque – Nightshade for me! Thanks!
Stiv Hey – Thank you for the music. Downloading for Stiv Hey!
Ugur Project – Full Layrap, Thanx 🙂
Zoe Xenia – Great ep!