Gabriel Ben – Madness EP [Jeton] JET067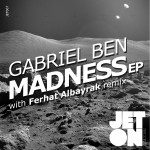 The sixth seventh release of Jeton Records, originally based in Istanbul and with a branch in Berlin, owned and managed by Turkish Techno Player Ferhat Albayrak, welcomes once more Gabriel Ben with Madness EP, including Ferhat Albayrak Remix.
Year 2014 was a very productive year for our long time Gabriel friend from shiny South Florida, who is on board with us since day one. We are really happy to have his new weapon in 2015.
Name track of the EP, Madness, is a track with so many sauces, ingredients and deeps, maintaining his bottom heaviness and top percussion waxes. A huge main synth/FX leads the track while some atmosphere elements built the traffic and make it playable in every dance floor all over the world.
Ferhat Albayrak Remix of Madness takes the main lead/FX, softens it, add some huge snares, claps and heavily compressed top elements, fix a big high kick/ low pumping bass-line and put trade-mark traffic including huge reverb and white-noise add-ons.
Second track Pump, reflects new sounds in terms of Gabriel dictionary, weird FX/Atmo combos assault the whole track, while essential bottom elements stay as expected, and polishes with spaceship like effects, stamps and clicks,
Gabriel Ben – Madness EP is trying to let you score some new sounds without being away from the dance-floor. Enjoy !
FEEDBACKS
Axel Karakasis – gr8!! support
Bageera – Great release , Love Ferhat remix 🙂 thanks
Chris Count – very nice ep!
Claude Vonstroke – Downloading for Claude VonStroke
Dubfire – Downloaded for Dubfire, thanks!
Fedde Le Grand – Thank you for the music you sent us! We look forward to reviewing it. Should we decide to use your material we will notify you as soon as possible…
Paco Osuna – Will try thanks
Phil Soren – Thx for this promo
Richie Hawtin – downloaded for r hawtin
Roman Finansi – Gabriel Ben – Pump!!