Jeton Records Radio Show 039 Whyt Noyz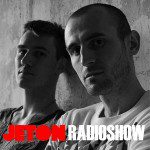 Birminghamish Duo WHYT NOYZ are our guest of this month`s Jeton Records Radioshow. Formed in late 2010, WHYT NOYZ consists of David Sidley and Duncan Murray, two lifelong friends who grew up sharing a passion for electronic music. Early demos were picked up by none other than Richie Hawtin who quickly signed one of the tracks "Volcano" to his Minus12 label. "Volcano" was then released as part of Richie's Mixmag "New Horizons" compilation and followed by an EP on SCI-TEC of Dubfire. Right now ther are touring with Richie and preparing the new EP out on again M-NUS. Quite inspring career so far !
Second part features Ferhat Albayrak mix as usual. Enjoy !