Ferhat Albayrak – Get Back EP – JET038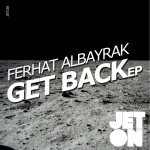 The thirty eighth release of Jeton Records, originally based in Istanbul and with a branch in Berlin, owned and managed by Turkish Techno Player Ferhat Albayrak, presents Get Back EP.
The Name Track of the EP, Get Back, stands out from latest Ferhat's productions by having an acidy synth work, without forgetting a pumping bassline and huge kicks. Percussions are nicely polished, while a decent drop is enough to get crowd crazy.
Super Natural is also a clear example of how Ferhat is addicted to synth works. A huge main lead surrounds all over the track, repeats and filters by having Techno drums and Techno high frequency ingredients.
Ferhat Albayrak – Get Back EP gets 2 real original tracks, without repeating what has been already done but by putting some stones for the future sound of Techno.
Enjoy.
FEEDBACKS
| | | |
| --- | --- | --- |
| Richie Hawtin | – | download for r hawtin |
| Marco Bailey | – | Always full support Ferhat |
| Tom Hades | – | very nice release !! thanks for sharing ! 🙂 |
| Eddie Halliwell | – | passing on to eddie |
| Gabriel Ben | – | cool EP |
| Gennaro Le Fosse | – | Ferhat is making some really cool trax! Support! |
| Paco Osuna | – | downloaded thank you 🙂 |
| Dean Facer | – | Superb driving beats…. I really love Get Back"" |
| Phil Soren | – | Get Back for me – Thanks |
| Roman Finansi | – | Super Natural is GREAT!! |
| Dimitri Kechagias | – | Dimitri Kechagias review: The brand new EP by Ferhat Albayrak on his own imprint Jeton records landed and is techno at its best once again. Two pumping techno tracks with quality and more importantly a lot of energy for the dancefloor. While some techno is too repetitive and uninteresting, Ferhat manage to compose tracks with personality and a special sparkle in them. Get Back has that manic hi-nrg like synthy melody that runs through the main part of the track and really is like injecting you with extra adrenaline doses to dance till the morning light. Super Natural starts all minimal but on the breakdown reveals some haunting dark melodies that sound like something strange with Super Natural powers is going to enter the building and bring terror and havoc on the dancefloor. Melodic techno is always for me the way forward. Like IT!review link: http://fluxbpmonthemove.blogspot.com/2012/09/review-ferhat-albayrak-get-back-ep-on.html |