Gabriel Ben – Jealous EP – JET035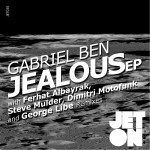 The thirty fifth release of Jeton Records, originally based in Istanbul and with a branch in Berlin, owned and managed by Turkish Techno Player Ferhat Albayrak, welcomes once more Gabriel Ben with Jealous EP with Ferhat Albayrak, Steve Mulder and Dimitri Motofunk & George Libe Remixes.
Gabriel Ben returns to Jeton with a very powerful Techno package and we are confident that this EP will be supported by world's finest, as they do always for Gabriel.
The Original Mix, generates its groove with a sub-bass and gets its hook with a mid-stab, surrounded by a filtered vocal, and so many off-beat percs. A very driving Techno example !
Ferhat Albayrak Remix takes nothing but a stab from the original and constructs the whole track in a pumping bass-line. Very polished cymbals and shakers accompanies to the long kick and has a nice break-down with a filtered synth work.
Steve Mulder Remix has quite more Tech-House favor then Techno by adding a nice atmosphere all track long with saturated hihat works. More melodic and groovy then the original, favored with very smooth white-noises.
Dimitri Motofunk & George Libe make their debut on Jeton with their powerful remix, adding some darkness to the original. Very bold off-beat bass, jagged cymbals, and reverbed build-up makes the remix like a lethal weapon for main-rooms.
Gabriel Ben – Jealous EP will support your DJ cases with powerful remixes and tastes, specially for the big rooms all over the world.
Enjoy !
FEEDBACKS
| | | |
| --- | --- | --- |
| Greg Gow | – | original is my pic |
| Axel Karakasis | – | Great release!!! full support |
| Tomy De Clerque | – | Steve Mulder remix … In My chart |
| Luigi Madonna | – | steve mulder rmx for me! thanks |
| Davy Dee | – | The Original for me and also the Steve Mulder Mix. Thx !!! |
| Gennaro Le Fosse | – | support |
| A-Brothers | – | cool tracks! jealous org. and rmx are really dope! |
| Dean Facer | – | I'm on this !!! superb release, strong remixes! Release 35 on Jeton and still going strong ! |
| Roel Salemink | – | Nice release, big fan of all artists!! Dimitri Motofunk is my vaf pick. Also love Steve's mix!! |
| Phil Soren | – | Downloading -thanks |
| Roman Finansi | – | Jealous (Steve Mulder Remix) is nice&groove! Thnx! |
| Microvibez | – | Again a massive Jeton release. love them all! |
| Todd Burns – Editor in Chief RA | – | Thanks. |